Reflecting on my Creative Escape experience. Wow. How do I even begin to put it into words? Incredible. Uplifting. Inspiring. Energizing. Humbling....the list goes on and on. First off...this year had HUGE shoes to fill. My experience last year was so unbelievably amazing, that I honestly did not know how this year was going to be. Honestly though, the first 5 seconds of my experience blew last year out of the water...and last year was beyond incredible. So can you just imagine how I must have felt??? It literally brings tears to my eyes in how powerful of an experience we can have in this life. And honestly...it's not even about the scrapbooking. It's about the connections...the coming together, the power of friendships, insight, creativity and vision. The love of celebrating life and moments and random everyday miracles that we SEE and TREASURE everyday. That is what we do as scrapbookers and it is just so cool to be with so many other people who not only live their dreams, but love something just as much as you do...and ultimately GET IT. Reflecting on this whole experience, and being so lucky to have experienced it more than once leaves me in such a blessed state. I feel so so so lucky about many things in my life...and attending creative escape and witnessing just how elaborate and detailed and special of an event it is, takes my breath away and leaves me floating on cloud nine. It has been a week since the event...and today still...I am floating!!! :)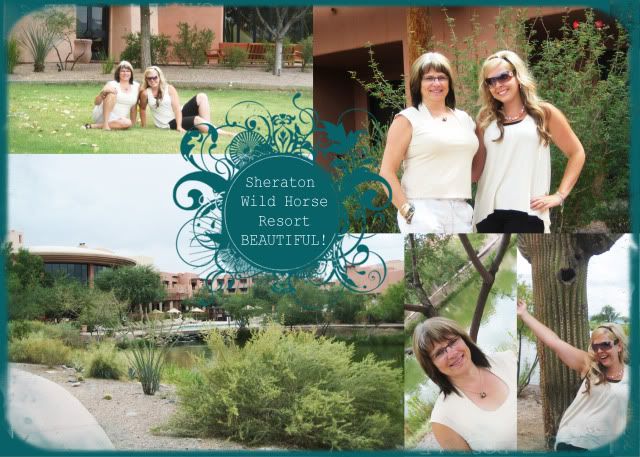 This year I had my mom come with me and enjoy the resort while I was at CE. We had such a fun "girls time" together...even though once CE started I barely saw her for the 3 days it was going on! Seriously...up at 5:30 am and in bed at 1:00 am. Truly so intense but the energy I had over these days was amazing. One thing I definitely realized is how easy things are when you are LOVING what you are doing! During our down times though we enjoyed the restaurants, the scenery, the beautiful resort, the HOT weather, the neighboring hotel...truly just awesome! It was nice too to just have some time with my mom to myself. Life can be so busy that it is just a nice change to have nothing but time to hang out, be and enjoy life without any of the other daily distractions.
This photo above documents and signifies all of the amazing details that go into expressing what this event is all about. The signature colors, the lollies, the balloons, the ribbons, the designer mirrors, the FOOD, just so simply incredible. Friday night we were spoiled with gift bags in our rooms full of creative escape goodies, just waiting for us by our pillows...how cute is that?? Perfectly hand tied with ribbon awaited gifts of bazzill cardstock, glimmer mist, brownies, a beautiful charm bracelet in the signature CE colors, magazines...SO MUCH FUN! Truly perfect...down to the very last detail for sure.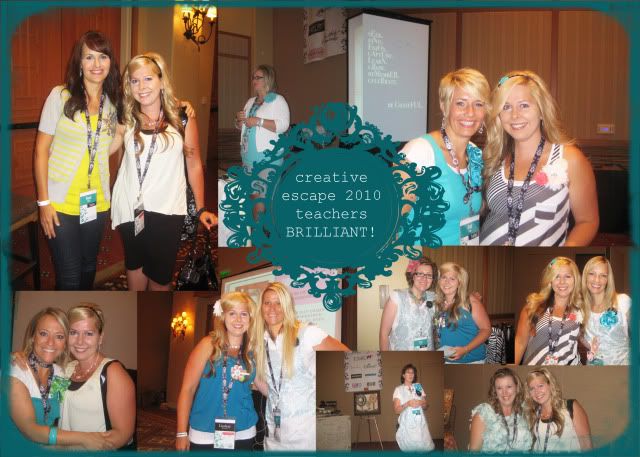 Now...on to the TEACHERS. Honestly I am at a loss for words to describe how unbelievably amazing and beautiful these ladies are. Truly SO talented, gifted and brilliant in their visions and love for scrapbooking and documenting life. One thing that definitely surpassed last year was all of the different techniques that I had learned this year. The projects were all so intense, that I actually never really finished any of them yet (will post pics of the projects when I do). I had so much fun learning about paints, textures, fabrics, digital brushes, creating jewelery...I have never learned so many amazing techniques in two days in my life! The whole atmosphere of CE 2010 was very artsy and had expanded even more what I knew the scrapbooking world to be. All I can say is "uh-oh"..... The teachers shared so many of their amazing gifts and I am so lucky to have been able to get to know so many of them while I was there and actually be able to have some really awesome conversations and just hang out! Heidi was incredible as always...and I even got to hug her goodbye and personally thank her on Sunday morning which was such a special treat! One of my favorite moments for sure! Teresa Collins was so cool...her project was loads of fun and I really enjoyed her personal touch and message at the end of her class when she shared a family photo slideshow...and yes, she made me cry. Trisha Ladouceur had an incredible class and project full of glimmer misting, fun fabrics and awesome details. Still have to finish that one, but it was definitely a highlight to be taught by a local Canadian girl (from Edmonton) and we even shared the same flight home!! Too fun! Margie Romney Aslett was SO FUN!!! Her spirit is like non other and thanks to her I am officially addicted to creating and making my own jewelry. Her project was so awesome and beautiful and I cannot wait to finish it. I learned so much from her and I just loved her to pieces!! Now Miss Jessica Sprague. To be honest, I was not sure what her class was going to be like. She is a digital genious and sometimes quite frankly I can be a little unsure as to the digital world. HOWEVER...she was SO INSPIRING, SO BEAUTIFUL, her whole message in her class gave me chills...and yes, I cried again. I LOVED her project, the idea behind it and will now emulate it over and over. I just so love this girl!!! She taught me so many things and it was such an extra special treat to sit in her extra class Friday night and learn even more digi goodness! Claudine Hellmuth will forever be remembered as the spunky girl who introduced me to paints and their power! Her canvas class was full of fun paints, techniques and NEW ways to use sticky back canvas paper...SO awesome!! Loved it! Pam Black's class was a beautiful little desk album. I loved her trunk show table too. Such a fun lady. LOVE her creative outlook! Last but not least was my favorite...Maggie Holmes! Not only is she an amazing scrapbooker...but a FABULOUS photographer who has always inspired me. Her class was a mini album, but she spent the majority of her time sharing her favorite photos with us as well as some fabulous photography ideas and tips!! I just LOVED her and literally hung on her every word. She is so beautiful inside and out and I really felt like we connected and share a lot of the same ideas and insights when it comes to photography! It was so cool to meet someone who inspires me endlessly! And meeting Miss Rhonna Farrer! She is one little spark of energy through and through! The cutest gal ever! She was hilarious and so energizing. I loved her so much. We had such a nice chat and thank you for teaching me many house of three tidbits and extra insights!! You are such a gifted designer! To all these women...thank you for sharing your gifts! xo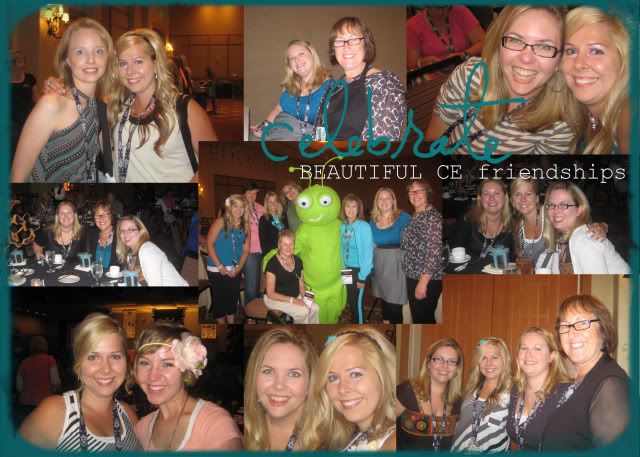 To the beautiful and amazing girls that I met this year at CE. Your friendships I will treasure forever. We had such an incredible time together and we are forever bonded by the time that we shared together this year. I feel so lucky to have met all of you and will never forget all of the shared laughs and tears we had together. You are all so beautiful and never ever stop letting your creative lights shine!
Before we left Arizona mom and I had the lucky chance to spend a few hours Sunday shopping around before catching our flight home. It was the perfect day to end such an amazing experience! We enjoyed Target, Barnes and Noble, Pier One, a tasty mexican restaurant...it was truly a fabulous day! Reflecting on my experience this year at creative escape simply makes me feel happy and blessed. Happy to love life, photography, people and color. Happy to be able to recognize all of the little miracles and fleeting moments that pass us by daily. Happy that I LIVE to celebrate them. How many days left until next year CE??? The countdown is ON!