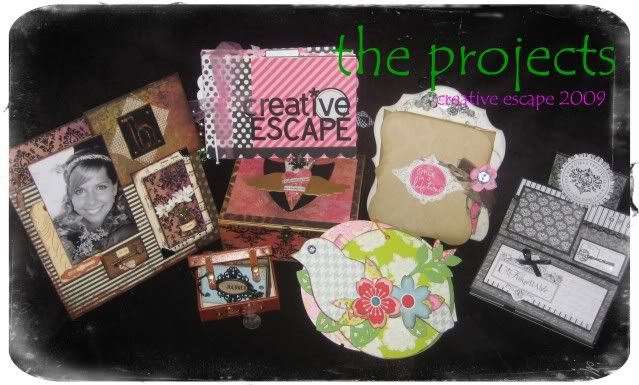 So Creative Escape 2009 has come and gone. Wow, is really all that I can say. I am overwhelmed in so many ways when I look back on all that I have learned, heared and seen during my time at Creative Escape in Arizona. It was one of the most amazing "once in a lifetime" moments that we are all so lucky to come across during our life journey. I met the sweetest women from Australia, Japan, Europe, women from all over the USA...it was so amazing. There were people from a total of 12 countries who made their way to Creative Escape this year. Is that not amazing?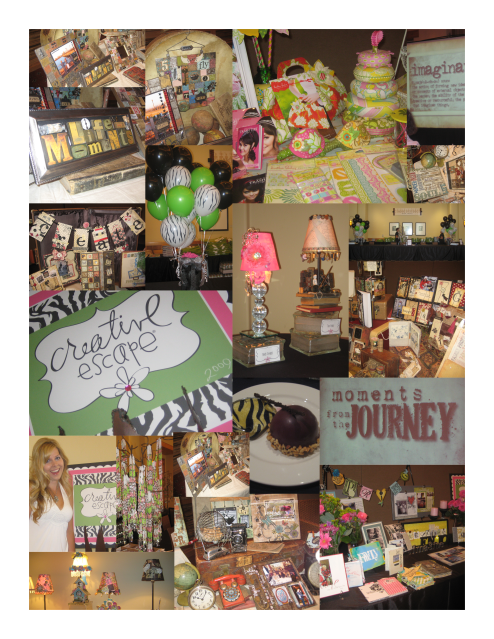 I could sit here for hours and go on and on about this experience. However, it is so late, I am exhausted yet with still so much to do, so here is my top 10 list of favorite moments from Creative Escape! 10. The zebra theme accented with tons of pink and lime green. Too fun, and I just loved how so many ladies got into the whole theme of it all. Their outfits were hysterical! 11. The shopping...of course! Between the Bazill wearhouse, Scrapbooks etc. and the on-site store...incredible. I love my new necklace and tree of life I purchased. 9. Being told at Bazill..."ok, here's a pizza box...there is the paper. Now go and fill as much paper as you can possibly stuff into your pizza box all for $20.00! (Huh???) So fun! 8. Flowers, flowers, flowers....they were EVERYWHERE! 7. The little gift bags that were left for us in our room after a long hard Friday. Such a cute treat with the homemade recipe book filled with all of the instructors favorite recipes, face wash, paper packs, flower pattern....just the sweetest. 6. Heidi's presentation on Friday night. 5. All of the amazing conversations I had with so many women I met during the course of the day. 4. Eating dessert FIRST. A well-known tradition at Creative Escape. 3. The prizes and giveaways! Even though I did not win, it was still so exciting to see those who had won something. CE gave away some amazing goodies! 2. The trunk show. So amazing. Truly inspiring. Hearing Melanie Wellman speak on Saturday night to close the event was so inspirational as well. She was truly a gift to hear as she spoke about so many things I needed to hear that night. I will never forget her keynote speech. 1. Having my husband surprise me at the airport when we arrived back in Edmonton! Instead of driving 2 1/2 hours home that night to only arrive in Lac La Biche at 3am, he surprised me with a hotel that night and treated me to a new lens for my camera for our upcoming anniversary!:) Definitly a treasured moment and day we shared together. My mom and dad accompanied me on this trip. They took some time to enjoy the beautiful Sheraton Wild Horse Resort and Spa in the 50 degree HEAT! It was crazy hot! However, they attempted golfing, went to the spa, toured the resort and just enjoyed the beautiful hotel. It was definitly one of the fanciest places I have ever been to. The service was amazing, the food delicious and the sights incredible. Truly the perfect setting for a Creative Escape!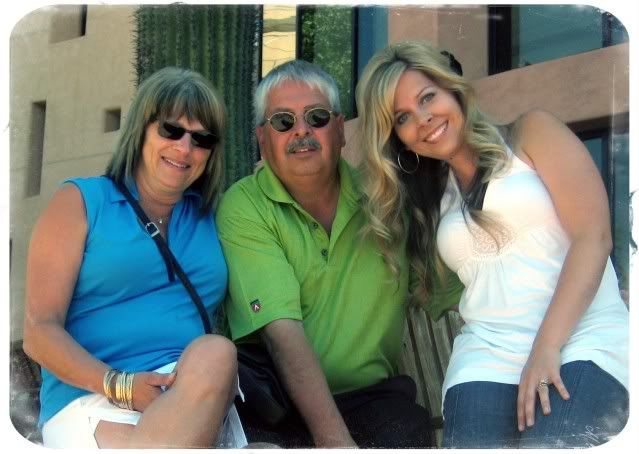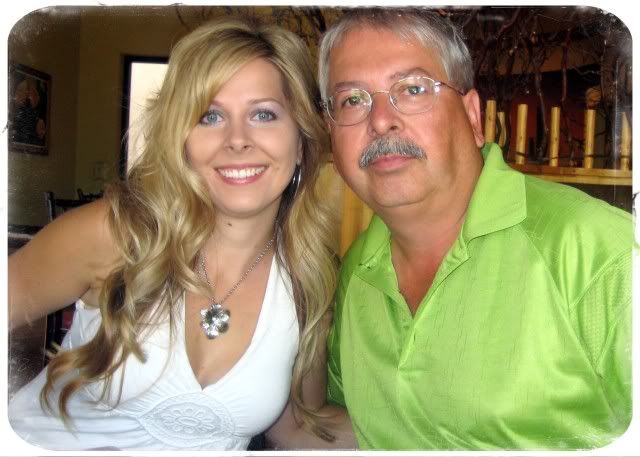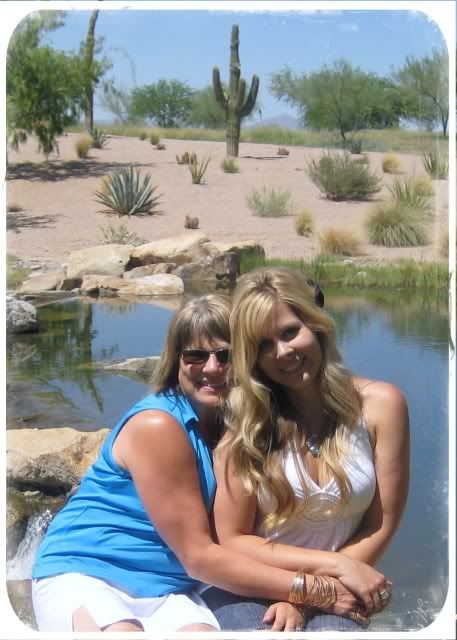 Now...back to the conference. It truly was out of this world. It was simply so inspirational, fun, intense, busy...the list goes on and on. So much detail and effort was put into this huge event. One of the most amazing things for me was being in the surroundings of over 600 women who are so so passionate about scrapbooking and documenting their lives. I just loved it. No one needed to sit and explain why they do what they do, or why they love it so much. We all just completely understood. Heidi, of course, was nothing short of amazing. Her presentation on Friday night, which touched on the theme of risk, and what we risk by NOT taking the time to document our lives and scrapbook literally had the entire place moved to tears. Her heartfelt captions, beautiful photos, and scrapbook pages inspired everyone in the room that night. Even her pages she shared from years ago, (when stickers and cutting out people from the photos was considered "cool") had the place both laughing hysterically and tearing up all at the same time. Her presentation was so moving and made me so thankful that I do take the time to journal, jot down moments and to always have my camera ready. Life passes us by so quickly, and taking the time to write it down is our chance to control a little bit of the uncontrollable, and our chance to go back, for just a second, whenever we want, to relive some of the best big & little moments of our lives-that make us who we are today.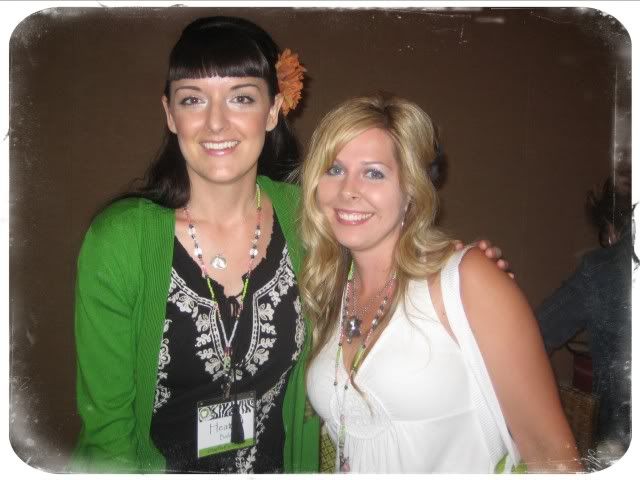 I absolutely adored Heather Bailey. Her table at the trunk show was so inspiring. Filled with fun fabrics, beautiful photography and the most detailed and funky sewing projects she definitly has me yearning to learn what my sewing machine can do. I just loved talking with her and looking at her beautiful display. Her style just makes you happy!
Mr. Tim Holtz. This guy is crazy. His creative drive, vision and talents surpass all that I have seen. His table at the trunk show literally took my breath away. His love for vintage, antique and unique elements in his projects bring scrapbooking to a whole new level. His class was definitly one of my favorites by far. So unique, his products are super fun to work with...their possibilities endless and the little mini suitcase we used in our class project....waaaaay too cute for words!
The 7 gypsies gals. Truly more inspiration was to be had here with them. I loved their class, the project was so great...and their trunk show table was incredible again. So vintage, full of life and detail and hidden treasure. These ladies are so talented and had so many amazing "outside the box" projects on display at their table. It was so fun looking at all thier stuff and hearing about all thier neat finds!
Heidi and me. Her "Once in a lifetime" project just simply beautiful in every way. I cannot wait to finish it with my photos. She is just such a beautiful person, inside and out. Her table at the trunk show...........UNREAL!!!!!!!!!! I could have stood their for hours.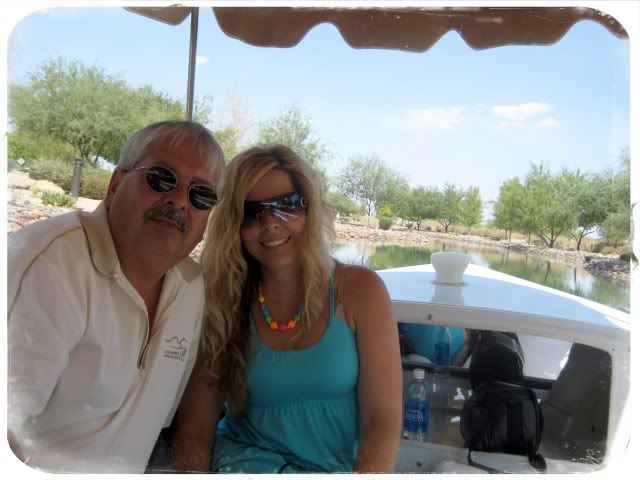 Dad and I on our last day at the resort before leaving for our flight. Taking a tour of the resort on the little boat ride. So cute....but it was SO HOT!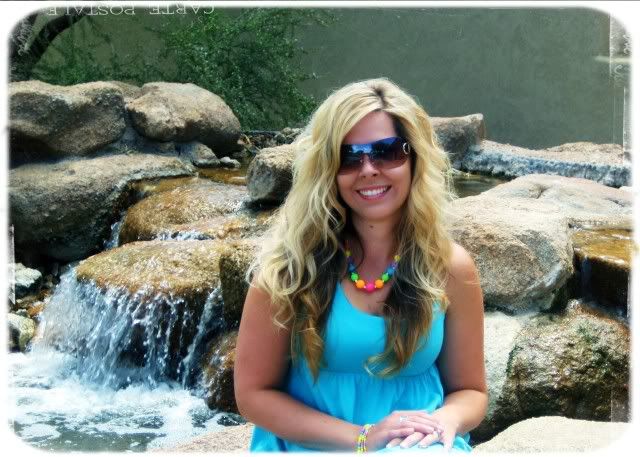 I am so grateful in so many many ways for this experience. There is just so much to take in and remember and think about. The theme of the conference was "Unwritten", and how it is up to us to tell our life story. "Live your life with arms wide open. Today is where your book begins. The rest is still unwritten." I am so ready to start living this life, my life with my "arms wide open". Creative Escape was truly that...an escape into one of the most amazing "once in a lifetime" experiences I have ever had!